KIDD G Anywhere But Home Tour
Kidd G
with
Fri
Nov, 17
@ 9:00 PM
( Doors:

8:00 pm

)
Rick's Cafe
Ages 18 and Up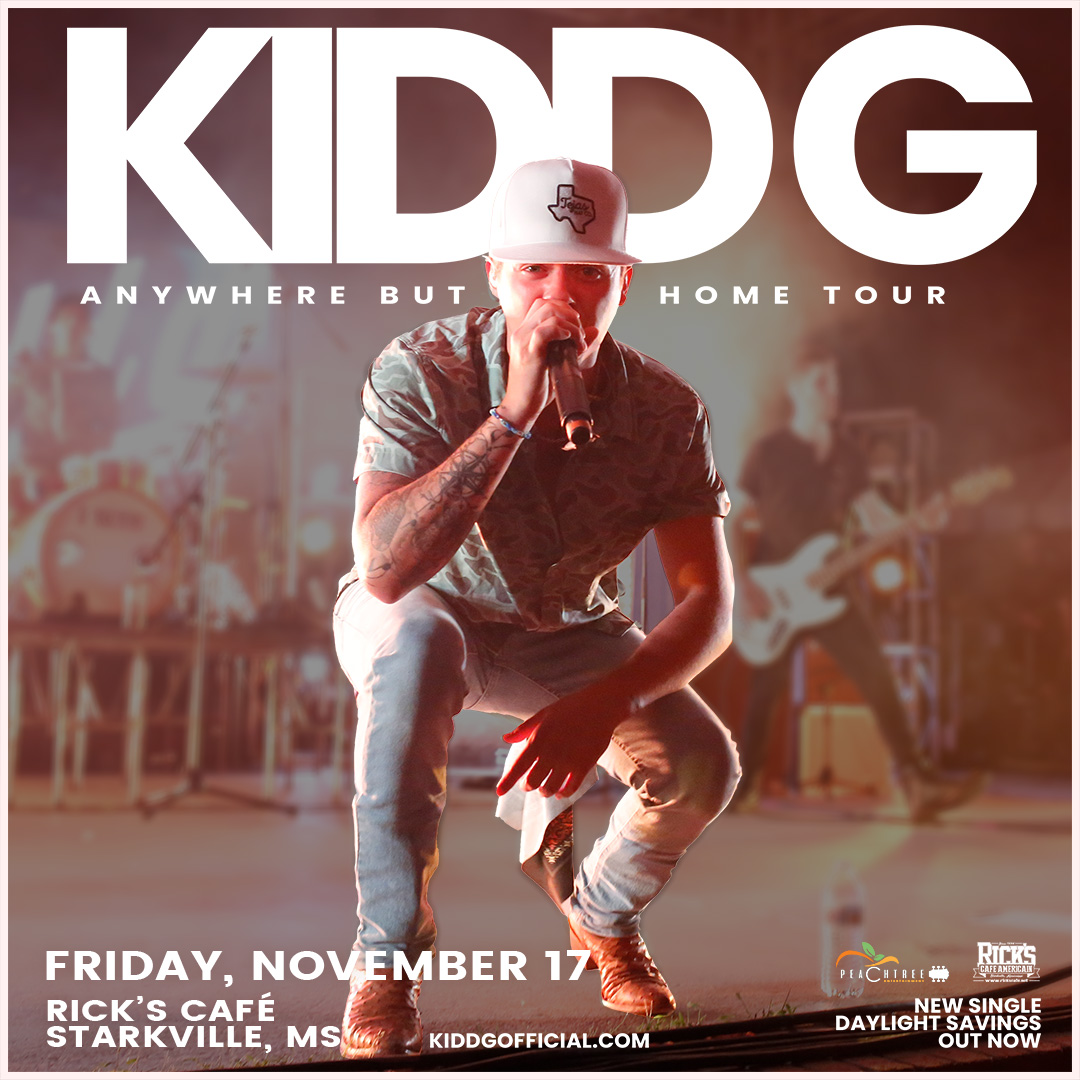 Additional Info
KIDD G MEET & GREET EXPERIENCE INCLUDES:
​One (1) GA Ticket
Early Entry Into Venue
Meet & Greet and Photo with Kidd G
One (1) Exclusive Kidd G Poster
One (1) Commemorative VIP Laminate
All package elements will be rendered invalid if resold. Name changes will be issued at the sole discretion of 237 Global. VIP instructions will be sent via email no later than three days (3) prior to the concert. If you do not receive this email three days (3) prior please email info@237global.com. All packages and contents are non-transferable; no refunds or exchanges; all sales are final. All VIP package items and experiences are subject to change. Please note that the information provided at the time of purchase (e-mail and mailing address) is the same information that will be utilized for individual contact requirements where applicable. 237 Global, the artist, tour, promoter, ticketing company, venue or any other affiliated parties are not responsible for outdated or inaccurate information provided by the consumer at the time of purchase. If you have any questions regarding your VIP package elements, or have not received your package information within three days (3) of the concert date, please email info@237global.com.


*Ticket purchasers agree that their ticket purchase to this concert is for their personal use only. If we discover these tickets were purchased with the sole intention of reselling we reserve the right to refund this purchase to the buyer.

Ticket Purchaser must present valid ID that matches name on the primary ticket that was purchased. If multiple tickets are purchased for other indifividuals these individuals must enter with the primary ticket purchaser.

We guarantee any tickets purchased directly from the Rick's Cafe website will be honored but can not guarantee the validity of any tickets purchased through a 3rd party.

*Under 18 allowed with a parent
Artists
Kidd G
With a rare gift for turning his hometown experiences into natural melodies, Kidd G has found
tremendous success by staying true to his roots. As a kid growing up in small-town Georgia, he
first started creating his own songs at the age of 15, and soon arrived at a gritty but melodic
sound equally inspired by classic country and hip-hop. As he continued exploring his country
roots, Kidd G soon came up with "Dirt Road"— a nostalgia-soaked ballad that quickly went viral,
its video surpassing 5M YouTube views in little over a month. Naming Hank Williams Jr. among
the artists he was raised on, the burgeoning star has now surpassed 1.5M monthly Spotify
listeners, and his tracks have seen radio play from KIXX Country Radio in Australia and reached
new peaks on highly coveted country playlists including Amazon Music's 'Country Heat' (peaked
at No. 2), and Spotify's 'Hot Country' (peaked at No. 3). Now, with his first ever headlining tour
under his belt and the announcement of his partnership with Big Machine Label Group's The
Valory Music Co., Kidd G wrapped 2021 on an even higher note than he started it on.
Born Gabriel Horne and raised in the town of Hamilton (population 1,130), Kidd G got his start
singing at the age of 11 with the full support of his music-loving family (his great uncle played
bass in Fleetwood Mac, and both his parents are hobbyist singers). Within several years he'd
set up a makeshift studio in his bedroom and started recording with his friends, partly mining
inspiration from new age rappers like Juice WRLD. One of his first viral moments was his video,
"Letter to Juice," a minute-long verse over a melancholic beat paying homage to the late artist.
But while early tracks like his debut single, "Sorry," lean toward traditional hip-hop, Kidd G later
brought an element of old-school country into his songwriting. "I love country because it feels so
natural to me, and you can really tell stories in the songs," he notes. As he continued posting his
music on SoundCloud, Kidd G soon amassed a dedicated following undeniably drawn to his
down-home charm and the honest detail of his lyrics, The New York Times dubbing him a
"knockout country-rap crossover." With the arrival of "Dirt Road," that following grew
exponentially as Kidd G saw the track gain serious traction on the Billboard Hot Country Songs
chart and land on coveted Spotify playlists like "Fresh Finds Country" and "Next from Nashville."
Thanks to his deliberately laid-back, hometown influence and approach, all of Kidd G's music
unfolds with a carefree energy that lightens any mood. "A lot of my songs come from me just
getting stuff off my mind, and I hope it helps other people get through the day and get through
their problems— maybe make life a little easier for them," he says. But as Kidd G reveals, the
ultimate test of a song's power invariably happens in his hometown. "Most of the time when I'm
making a song, I'm thinking about how my friends will react to it," he says. "That's when I know
something's good— when I'm working on it and I start thinking, 'I can't wait to get back home
and show this to my friends.'" And as he looks to the future, Kidd G plans to maintain that
hometown spirit while massively expanding his musical horizons. "My goal is to get a platinum
record," he says, "reach No. 1 on Billboard, sell out arenas, and perform in front of millions of
people."
ABOUT KIDD G:
Growing up in the small Georgia town of Hamilton (population 1,130), Kidd G first found fame
online through TikTok, where he got his start posting songs he'd recorded with his friend, Nolie
Beats. In 2020, he caught the attention of Rebel Music, who signed him on the strength of his
genre-warping talents. While early tracks like his debut single, "Sorry," lean toward traditional
hip-hop, he later brought an element of old-school country into his songwriting. As he continued
posting his music on SoundCloud, Kidd G soon amassed a dedicated following, undeniably
drawn to his hometown charm and the honest detail of his lyrics. As he continued exploring his
country roots, Kidd G came up with "Dirt Road"— a nostalgia-soaked ballad that quickly went
viral (now certified RIAA Gold), its video surpassing 5M YouTube views in little over a month.
Naming Hank Williams Jr. among the artists he was raised on, the burgeoning star has now
surpassed 1.5M monthly Spotify listeners, his tracks have seen radio play from KIXX Country
Radio in Australia and reached new peaks on highly coveted country playlists including Amazon
Music's "Country Heat" (peaked at No. 2), and Spotify's "Hot Country" (peaked at No. 3). In
2020, he released full length project Teenage Dream which includes RIAA certified Gold hits
"Dirt Road" and "Teenage Dream". His follow-up project, Down Home Boy, has emerged as
a homegrown phenomenon unto itself.Beyond generating 41M+ streams on Spotify, The New
York Times championed it "the year's best country debut album." Currently on the road for his
second headlining tour, which includes a major country festival performance at CMA Fest this
summer, Kidd G continues to prove himself as "one of country music's most buzzed about
newcomers," as noted by Billboard. For more information, visit kiddgofficial.com.