Whitey Morgan & The 78's, Ben Jarrell
Whitey Morgan & The 78's
with Ben Jarrell
Sat
May, 22
@ 8:00 PM
( Doors:

7:00 pm

)
Rick's Cafe
Ages 18 and Up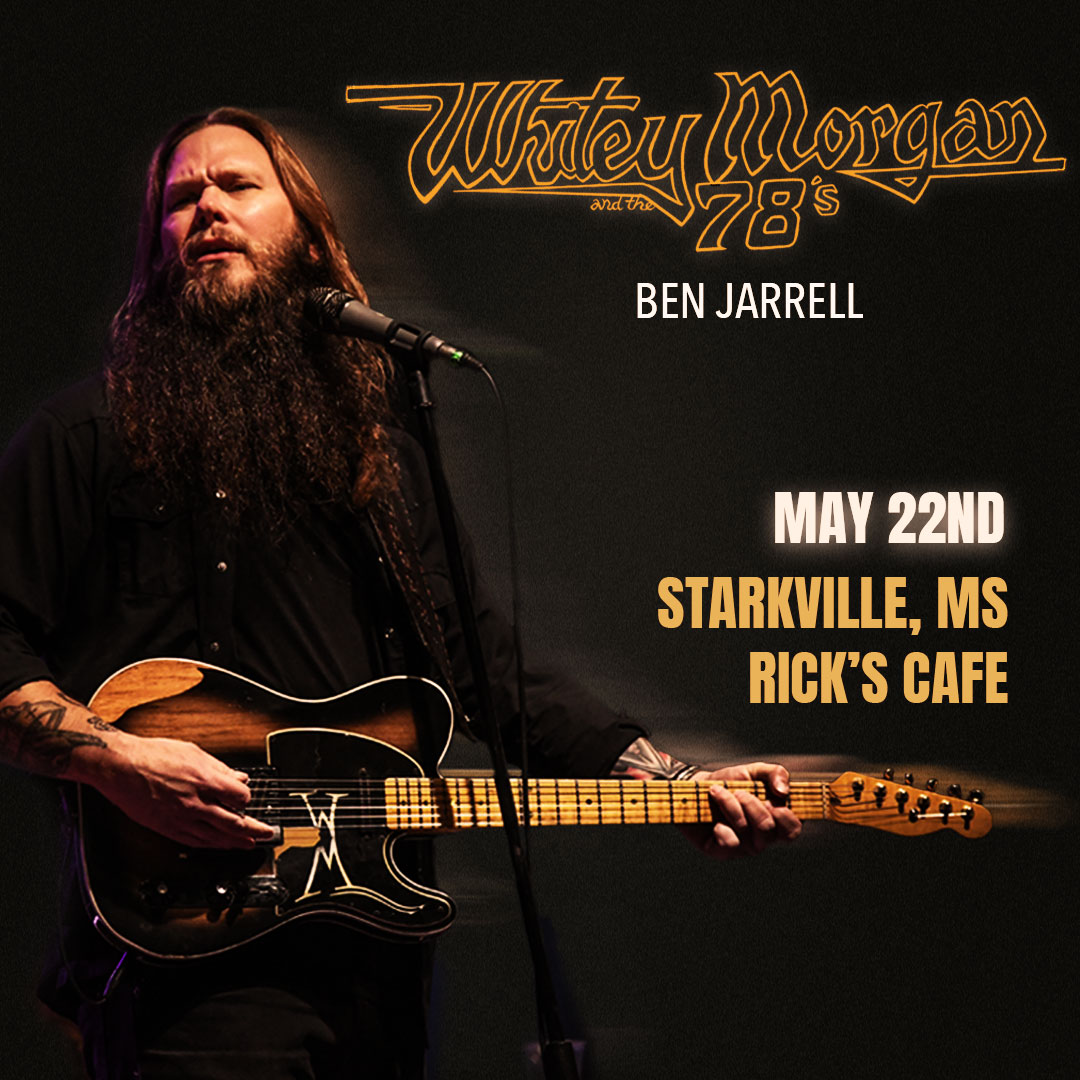 Artists
Whitey Morgan & The 78's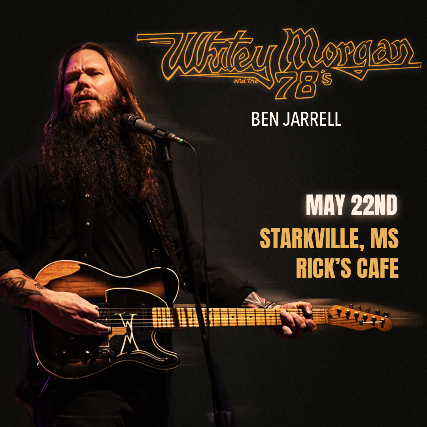 Whitey Morgan and the 78's anticipated new album, self-produced by Morgan, was recorded in the Neve Room at famed Sonic Ranch Studios in Tornillo, Texas. Featured on the record are collaborations with acclaimed songwriters Travis Meadows and Ward Davis plus a cover of ZZ Top's "Just Got Paid." Alongside Morgan, the 78's consist of Brett Robinson (pedal steel guitar), Joey Spina (guitar), Alex Lyon (bass) and Eric Savage (drums).
Of the recording, Morgan shares, "It's not like my vision happened overnight. I've been chipping away at it forever. It's slowly evolving and it's going in a little bit different direction. It's not so straightforward anymore. This record definitely has a wider path, it's broader, but it still sounds like a Whitey Morgan record." With grandparents from Tennessee and Kentucky and hometown roots in Flint, Michigan, Morgan's family geography has factored into his approach to music.
In a career spanning 15 years, Morgan has released five studio albums and a live recording from his hometown of Flint, Michigan. Additionally, he has toured relentlessly averaging over 125 shows annually. Rolling Stone has described him as a "Waylon Jennings acolyte.. modern day outlaw [with a] hard hitting blue-collar brand of music" while NPR Music hailed, "Staying close to the sound and subject matter of classic outlaw artists like Waylon Jennings, Merle Haggard and David Allan Coe, Morgan is poised to lead this hand-worn brand of country to the next generation." His most recent LP, Sonic Ranch (2015), was released to critical acclaim and praised by Detroit Free Press as, "a bold well-crafted album that doesn't forsake the gritty undercurrent running through Morgan's stuff."
Ben Jarrell
Ben Jarrell was born in Dothan, Alabama and raised in the surrounding area.
If you were to write out the story of Jarrell's journey from then until now, it would read like a country song - a damn good one, too. One initially fraught with discord and disappointment; a mother gone, a father in prison, broken relationships and broken spirits. Nearly every touchstone a person relies on in their formative years gone. Failed.
Punk rock grew out of failed systems both big and small and Jarell found it in his teen years. Mike Ness's Social Distortion was a light in an abandoned building. Jarrell followed that light toward Ness's solo efforts that were more country than anything else. Once Jarrell open that door, he never stopped to close it. He just kept going; from The Steeldrivers, George Jones, Johnny Paycheck, John Prine to The Allman Brothers and Lynyrd Skynyrd to contemporary acts like Blackberry Smoke and Whitey Morgan.
Jarrell took what he learned from these songwriters, these bands, their records and applied it. He created his first band. Then another. And another. He kept going until he got it right. He spun well told stories – many of them from his own life experience - in tightly wrapped chords. He toiled and tinkered and gave us a self-titled acoustic EP in 2018. That was followed by his full-length record, "Troubled Times" in 2019 – recorded with an all-star band at Southern Ground in Nashville, TN. The record inspired one reviewer to pose the question: "Hot damn son! Wondering where the hell all the hard charging, kick ass, phase guitar and pedal steel-filled good ol' Outlaw country music has gone in 2019, and without skimping on the songwriting…? Well it all seems to have been sucked up and put to good use by Alabama native Ben Jarrell … and it's one hell of a ride boys and girls."