Ernest, Jake Worthington
Ernest
with Jake Worthington
Sat
Oct, 28
@ 9:00 PM
( Doors:

8:00 pm

)
Rick's Cafe
Ages 18 and Up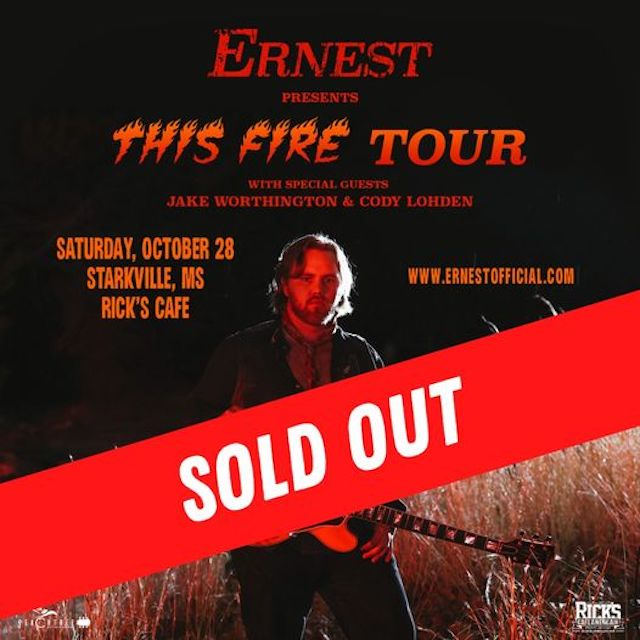 Additional Info
*Ticket purchasers agree that their ticket purchase to this concert is for their personal use only. If we discover these tickets were purchased with the sole intention of reselling we reserve the right to refund this purchase to the buyer.

We guarantee any tickets purchased directly from the Rick's Cafe website will be honored but can not guarantee the validity of any tickets purchased through a 3rd party.

Artists
Ernest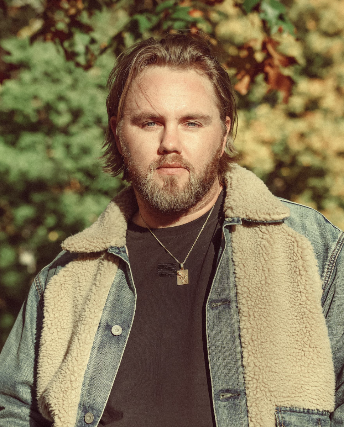 Nashville's most unpredictable hitmaker ERNEST is "The Charmer" (MusicRow), a triple threat talent and one of
Music City's on the rise artist/writers who is changing the status quo. A 2022 Variety Hitmaker, the chart-topping
songwriter fuses influences ranging from Eminem to George Jones, crafting a twist-heavy verse style that's become
his signature, proving its mettle, and earning him eight #1 hits to date. The eccentric free spirit and 2022 CMA Triple
Play Award winner will release the deluxe edition of his critically acclaimed album FLOWER SHOPS (THE ALBUM)
on February 10, 2023, rebranding the collection FLOWER SHOPS (THE ALBUM): Two Dozen Roses, doubling its
track list with 13 fresh cuts. The March 2022-released original has been praised as one of Holler and The
Tennessean's best albums of the year, showcasing the more classically country side of his craft. Nashville's "busiest
– and most consistently successful – creative force" (The Tennessean) wrapped his first-ever sold-out headlining
Sucker For Small Towns Tour this past fall, and will hit the road in March as direct support on Morgan Wallen's One
Night At A Time World Tour.
Jake Worthington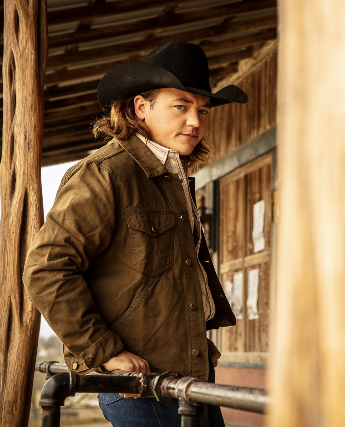 If Jake Worthington had a nickel for every time he heard honky-tonk is dead, he'd have himself a ranch down in the heart of Texas. But even then, he'd be singing it.
A genuine country article with neon coursing through his veins, a deep-drawling baritone and a soul that feeds on fiddle and steel, the soon-to-be star has heard all the eulogies for country's most electrifying, iconic style. But with his debut album on Big Loud Records, he's breathing fresh life into an American classic.
"I don't mind being a dark horse," he says, welcoming his role as keeper of the honky-tonk flame. "Blame it on my raising, but I think there ought to be room for country in country music. It took me a long time to get here, but I'm ready to go to work."
Raised in La Porte, Texas, a "chemical-plant town" just down the road from Houston, that hardworking, blue-collar attitude comes natural to this hellbent singer-songwriter – and despite his youth, so does his pure-country devotion.
Built into the fabric of his upbringing, traditional country music seemed to surround Worthington as a kid, from the radio stations he heard, to the TV shows he watched … and even the family heroes he looked up to.
Back in the 1970s and '80s, it was Worthington's grandfather taking his shot at a neon dream, a self- taught songwriter/producer who founded his own publishing firm. He never scored any big hits, his grandson explains. The country mainstream of the day was much like it is now – overlooking its roots in the name of progress, and the Urban Cowboy phase. But every Christmas, grandpa would tell stories of the glory days and bust out an old guitar, playing twang-laden original tunes and classics by Ray Price, Merle Haggard, or George Jones. And in those moments, a seed was planted.
"I can't imagine my upbringing without country music," Worthington explains now. "It's just always been a huge part of my life."
Still, he never imagined it'd be a career. Learning a few chords as a youngster, he soon discovered his outsized voice – wide and wild as the Western plains – but for years, it was only used at home. An opportunity to compete on NBC's The Voice changed that, however, and after charming the nation with a second place finish on Season 6, Worthington picked up where grandpa left off.
Touring hard and hitting "every VFW hall and Moose lodge from Mississippi to Maine," he channeled his heritage at each show, fusing heartsick honky-tonk blues with bar-stool balladry, good timing two- step anthems and weary, tear-in-your-beer waltzes. Everywhere he went, he found fans craving more of that authentic country soul – and when he started writing in Nashville, that's exactly what he set out to give them.
"You can run into situations in a writing room where somebody's like, 'Let's write a country song today,'" he explains. "I don't mean no disrespect to nobody, but what the hell are we doing here, anyway? That's what I'm always doing."
Joining the Big Loud team, soon Worthington appeared on Hixtape: Vol. 2 with Ronnie Dunn and Jake Owen for the rowdy "Jonesin'," racking up almost 2 million Spotify streams. He showed up again on
ERNEST's "Heartache In My 100 Proof," hitting the road with the breakout star to boot. And now, his own tales are coming to life.
Thirteen tracks fill Worthington's self-titled debut, produced by hit maker Joey Moi, that mix traditional twang with a modern punch. A genuine honky-tonk album for an era of hybrid hits, Worthington penned all but one track, writing with country stalwarts Roger Springer, Robert Arthur, Jessi Alexander, David Lee Murphy, and Jeff Hyde as well as go-to collaborators Monty Homes, Nick Walsh, and Wyatt McCubbin, infusing fresh blood into country's still beating heart.
Plainspoken lyrics and rousing, real-deal vocals. Sawing fiddles and slippery steel guitars. Shuffling rhythms and saloon-style piano runs, all on tunes built for living fast and loving true, or long nights spent with a broken heart, nursed by whatever the bartender's pouring.
Stood up alongside the Country & Western classics, they'd feel right at home. But it's no "throwback" for a guy like Worthington.
"I've never wanted to make any other kinda music," he says. "And I can't sing none of that rock stuff anyway."
Tracks like the slow and solemn "State You Left Me In" lead the way, pointing at the honky-tonk ahead like a buzzing neon sign. Co-written with Timothy Baker and Roger Springer, it's a swaying message to a jet setting lost love – sent out by a heart that refuses to move on, just in case she ever comes back.
Highlighting both his traditional dedication and youthful vigor, Worthington wrote it just as his time in Nashville began, matching country's emotional elements to an in-the-moment story.
"I'm damn sure positive that we ain't the only ones who have ever felt that a'way," he says.
Others like the slow-dancing "She Ain't You" follow suit, mixing tender devotion with a modern setup – and with Worthington's booming vocal matching his booming heart. And with "Pop Goes the Whiskey" (featuring ERNEST), the long road to romantic recovery takes a downtown detour, where shots off the bottle get chased with a shot of classic vocal balladry.
Meanwhile, uptempo tunes like "Honky Tonk Crowd" and "Night Time Is My Time" capture the album's good-timing spirit, as Worthington wrings all the energy (and then some) out of his electric honky-tonk roots. But it's with "Next New Thing" that his vision is clear.
A rollicking tribute to the simple thrills of knowing who you are, and knowing what you like, it's an uptempo anthem to chasing dreams with total, wild-eyed abandon. For Worthington, that just happens to be bringing honky-tonk into the here and now, naysayers be damned.
"Like my grandpa always says, you'll know you have a hit song if the dance floor's full," he says with a grin. "A lot of people have told me it's hard to sell that kind of music, but I don't care. I've always taken the long way around."