Kolby Cooper, Logan Jahnke
Kolby Cooper
with Logan Jahnke
Thu
Mar, 23
@ 9:00 PM
( Doors:

8:00 pm

)
Rick's Cafe
All Ages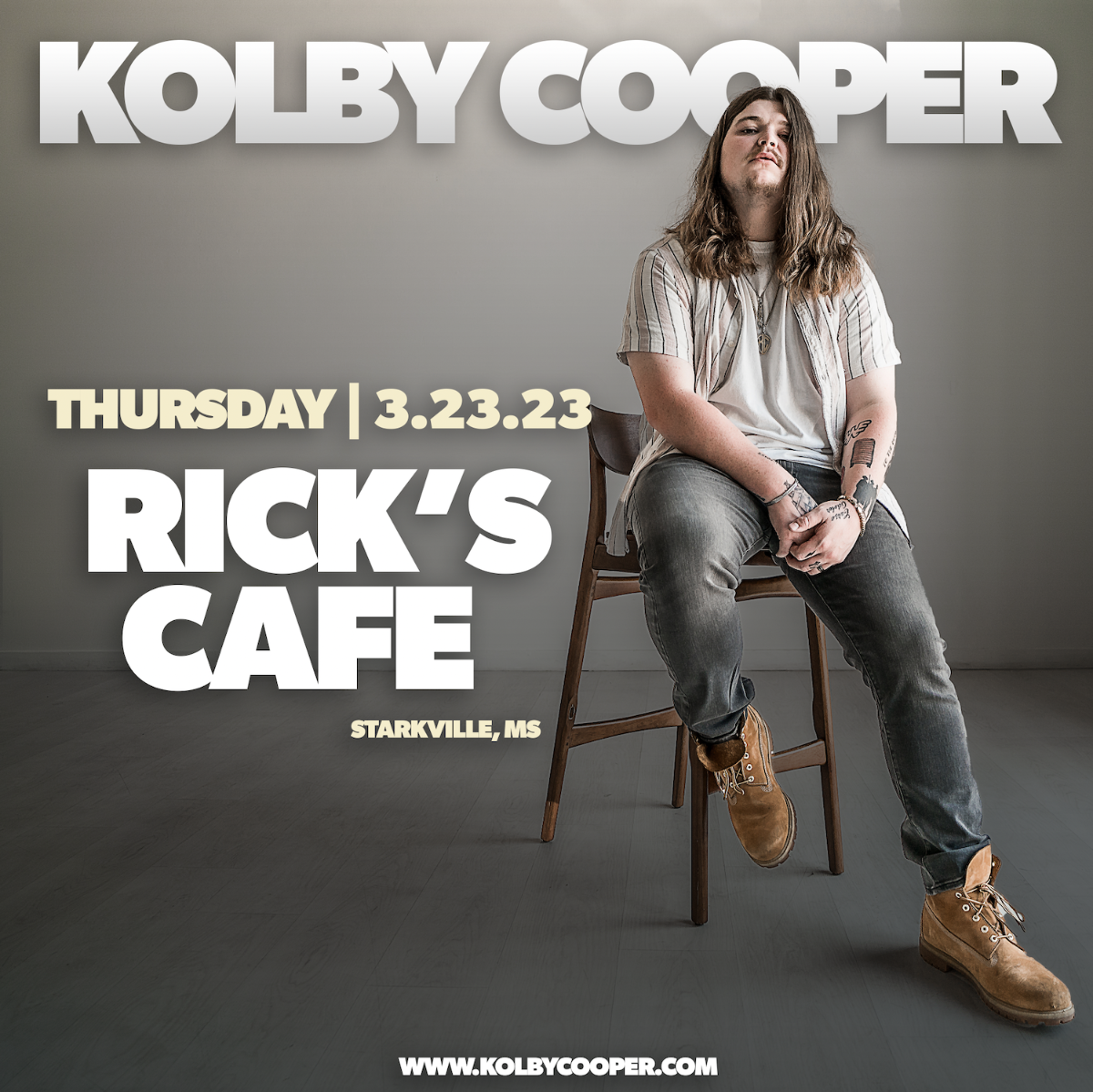 Artists
Kolby Cooper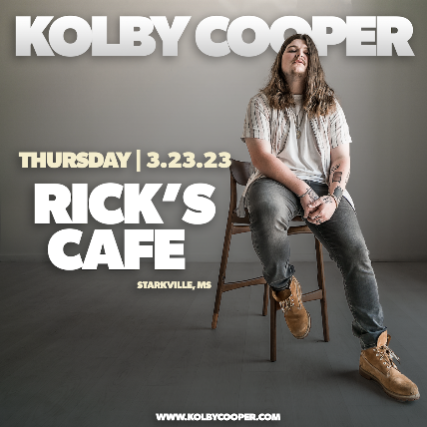 Kolby Cooper lost his childhood and found his voice.
Cooper was 14 when cancer took his dad, and he channeled that painful loss into songwriting. He
was 18 with the responsibility of a wife and baby on his shoulders when he used his high school
graduation money to record an EP. And now, barely old enough to buy a round for the band,
Cooper is pouring his signature blend of scorching break-up anthems and gut-wrenchingly
relatable songs into a new record for BBR Music Group.
Far from the typical music industry inroads, Cooper has been riding the fast track from a small
Texas town driven by necessity and inspired by his father's working-class principles.
"Losing my dad and then becoming a dad made me think, 'This just can't be a fun thing.' I mean,
it's fun – but it has to be a job too," Cooper said with candor. "I have to work my ass off. I'm not
just trying to pay rent."
In three short years, Cooper has accomplished what has eluded seasoned Nashville insiders
amassing more than 110 million Spotify streams and playing numerous, sold-out show around
the country, with thousands of fans singing along to his searing, wry lyrics.
Drawn to his unrestrained, fresh sound, Cooper is earning early praise for his rough-hewn velvet
vocals, layered over wailing electric guitar, and a buoyant Texas bottom-end. His new record is
Country with clear influences from his Lonestar State roots. The result "is authentic to me," said
the humble outlier. "I'm older and understanding more about myself, and the music, and what I
want to say. This is exactly what I set out to sound like."
At 22, he is coming into his own as a master storyteller and an angry advocate for the heartsick as
he writes each of his songs— from the deeply personal "Boy from Anderson County," an
autobiographical look at how love can propel a boy into becoming a better man, to "Good For
You," a sneering, steel-guitar slice of resentment, and the dreaded "it's not you, it's me" pathos of
"Excuses," which was inspired by his guitar player's sudden breakup.
Cooper is refreshingly kind and happy for someone who can readily tap into rage and angst. He
embodies and moves confidently between contradictions from the defiant to the forlorn.
"People ask me, 'Why do you write these breakup songs? You must have a bad past with exes,'" he
said laughing. "I've been dating my wife since we were seniors in high school. I write from the
perspective of what I see – a lot of tough relationships in a small town that I witnessed
firsthand."
Cooper still lives near Bradford – population 30 – an unincorporated farming community where
he grew up playing football (right and defensive tackle) and video games with a close-knit group
of friends. But when it came to music, Cooper's father was his most meaningful musical
influencer.
His dad drove a cattle truck and from the time he was three years old, Cooper rode shotgun in the
1989 Peterbilt. A staple of the 20-hour road trips was a worn CD case filled vinyl sleeves and 50
discs with the complete Waylon Jennings catalogue, Cross Canadian Ragweed, and more. When
he was 12, Cooper's parents spring-boarded his musical interest giving him an acoustic guitar he
could plug into a small amp. He immediately started writing songs but said he didn't write
anything "worth a shit" until he was 15.
"Everything I know about any Texas artist or country artist is from him," Cooper said of his
father's musical impact. "The memory of us listening to music together, bonding over music, is
what drove me to write. It made me want to make this dream real that much more."
In addition to his appreciation for classic Country and blazing Southern Rock, Cooper said those
early cow-hauling trips are the reason he loves being on the road today. "The reason I love
touring is that I spent so much time on the road with my dad. It feels normal to me."
Gigging since graduation, Cooper's live show has had an impact on his songwriting and
recording. With dozens of headlining shows in his near future, he places a premium on songs
that are fun to play live. "I'm happy on stage and it is hard to stop smiling when a crowd is
singing your songs," he said. "We were in Manhattan, KS the other night and we had never been
there, but it was sold out and after the bridge, I paused and then the crowd started singing the
last chorus. I looked at my guitar player and said, 'Fuck dude, this is crazy!' We are lucky and
blessed."
Cooper counts his blessings at home, too, raising two young daughters -- Josie, who is almost
three, and Charlee, six months – with his wife Jillian. The couple met in third grade and started
riding four wheelers on his grandfather's property in fourth grade. "We were best friends, and I
knew I wanted to be with her, but I didn't want to mess it up," he admits. "So, we didn't date until
senior year."
For Cooper, it's about knowing where he's headed and trusting his heart – even if that means
writing about loss and grief in real time.
"Growing up and getting married and having kids and growing into the person I am today – I'm
writing from a more mature place." Cooper explained. "A lot has changed in a short time, and I've
changed – for the better. But the music is still the same and my fans will still find those
signature, loud guitars, and riffs. It's me doing what I want do and nothing has changed about
that."
Logan Jahnke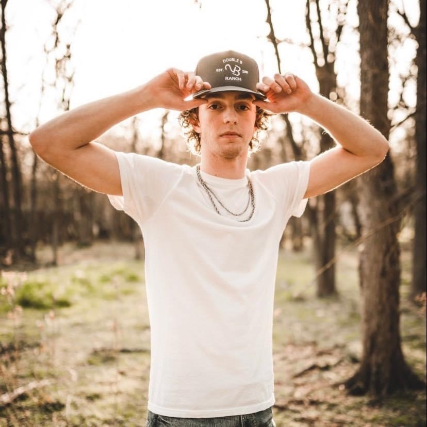 Logan Jahnke is a Texas based writer and musician who draws inspiration from rock & roll, classic singer/songwriters and Texas Country music. Logan grew up around music, learning how to sing from his mother and by attending church every Sunday as a child.
With no formal lessons, Logan first picked up the guitar in November of 2019 and taught himself how to play. Soon afterward, he began to write his own songs and began performing in the summer of 2020.
Raised near Tomball, Texas, a suburb of Houston, Logan graduated from Klein High School in 2021 and began his professional music career in January of 2022 by signing with Series A Music, a Nashville based company. In April of 2022, Logan also signed with Floating Leaf Entertainment, an artist management company based out of Round Rock. Texas.
Logan has currently released 2 songs, Wild Child and Right
Now, and both can be found on all streaming platforms. He has recorded 2 more songs that will be out in the latter part of 2022.